The Full Program For Vivid LIVE At Sydney Opera House Is Here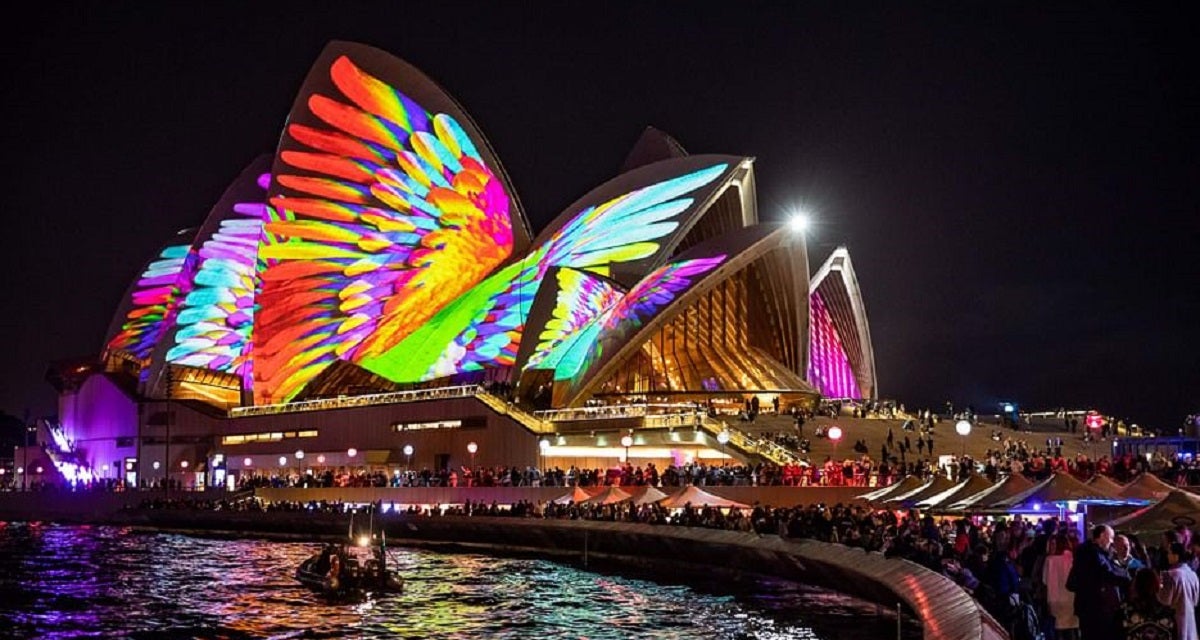 Vivid LIVE returns to the Sydney Opera House this August, and they're bringing a colossal list of amazing Australian and New Zealand based acts along with them.
The previously announced headliner Sampa The Great will be joined by the likes of Golden Features, Hermitude, G Flip, Flight Facilities, Angie McMahon, and Gordi.
Artist management and touring legends Astral People will also be celebrating their 10th Birthday across two nights at the iconic venue, featuring an all-star lineup including Hiatus Kaiyote, Cosmo's Midnight, Genesis Owusu, Young Franco, DJ Seinfeld, Mildlife, Cashmere Cat and more.
Vivid LIVE's infamous Studio Parties also return with Opera House favourites, Future Classic, Mad Racket and Picnic, throwing massive club nights.
Other acts performing at Vivid LIVE include Georgia Maq, Miiesha, TEEKS, Methyl Ethel, Budjerah, and many more great acts.
Vivid LIVE takes place from Fri 6 August until Sat 28 August, with tickets on sale now.
Vivid LIVE @ Sydney Opera House
Fri 6 - Sat 28 Aug 2021
Sat 7 Aug - Gareth Liddiard, Jim White & Chris Abrahams are Springtime
Sun 8 Aug - Sampa The Great Pres. An Afro Future
Mon 9 Aug - G Flip
Fri 13 Aug - Future Classic Studio Party
Fri 13 Aug - HTRK
Fri 13 & Sat 14 Aug - Golden Features & Hermitude
Sat 14 Aug - Georgia Maq
Sat 14 Aug - Picnic Studio Party
Sun 15 Aug - Tiny Ruins (Two Shows)
Sun 15 Aug - Club Kooky by the Harbour
Mon 16 & Tue 17 Aug - Connan Mockasin
Tue 17 & Wed 18 Aug - Methyl Ethel
Wed 18 Aug - Flight Facilities
Thu 19 Aug - Low Life
Thu 19 - Fri 20 Aug - Astral People 10th Birthday
Thu 19 - Fri 20 Aug - Gordi
Fri 20 Aug - Briggs & Friends
Sat 21 Aug - In the Mood - A Love Letter to Wong Kar-wai & Hong Kong
Sat 21 Aug - Mad Racket Studio Party
Sat 21 Aug - Tangents (Album Launch) & GODTET (Two Shows)
Sun 22 Aug - BLESSED presents Diaspora featuring B Wise, Maina Doe, Manu Crooks and more
Sun 22 Aug - An Evening with Angie McMahon (solo piano)
Sun 22 Aug - Into The Space Between The Notes featuring Liz Martin & Eliza Hull
Mon 23 Aug - TEEKS
Wed 25 Aug - RVG
Wed 25 Aug - Skeleten presents Utopian Sound
Thu 26 Aug - Liars
Fri 27 Aug - Miiesha
Fri 27 - Sat 28 Aug - The Necks
FOR MORE BREAKING NEWS CLICK HERE